championship cup series
blackhawk farms raceway - south beloit, il
may 6th-8th, 2006
gravity check. yup...it still works!

:|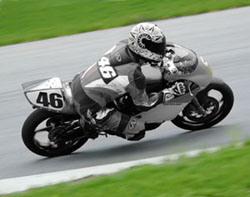 Last year was kind of a disappointment for me. I had bought a 2003 Yamaha R6 and was all ready to go try out the middleweight class. I guess what I didn't expect was to be on the pace so quickly...and realize the tire bill that comes along with that speed. The tire costs were killing me, and as a result, I didn't get to race as much as I wanted to. I was fairly competitive having had only 3 weekends on the bike, but I just didn't run enough weekends for it to satisfy me. So over the off-season, I decided to go back to something I could afford to run and still have plenty of fun...the 125GP class.
I convinced my friend and former teammate Steve to do it along with me. Trust me, it wasn't that difficult. :)
I bought my new bike from a fellow COMPoST list member, Dave Pankros...a 1995 Honda RS125. It would be interesting to see if such an old bike could still be competitive...luckily it's the same basic bike minus a bunch of little improvements compared to the newer models. It came with some nice extras including spare wheels and fancy Ohlins forks.
In preparation for the season, we did a lot of work including getting our suspension sent out for work by Themosman.
Everything was slowly coming together...we missed the first local Championship Cup Series round at Road America. Ah well, we were just out for fun this year and not points anyway.
The first time we actually got to ride the bikes was at a practice day at
Autobahn
(north course) one week before our first race weekend at Blackhawk Farms Raceway. The day was good just to see that everything held together, but the weather was not cooperating. We only got to run 3 sessions in the morning, and during the first 2 of them it was during light misting rain. The temps were in the mid 50s. Then at lunchtime the skies, which had been looking threatening all morning, finally opened up and we called it a day.
It was better than nothing (but not by much). At least we met some nice people as most everyone left early...
So the week preceding the weekend it was determined that our real bodywork (which was out getting painted) was not going to be complete. Hopefully we will have it in time for the round after Blackhawk. So, the bikes looked all clapped out... But after seeing what happened to me Saturday, maybe it was better that way...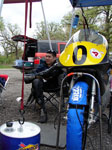 We had packed up the trailer Thursday night, so we just hopped in the car and drove up to Blackhawk. I raced there last year on the R6, but to be honest, I always disliked that place. I just think it's a little boring...it needs a few more turns. Anyway, it was a track I was familiar with, at any rate. I had run here more than a few times as an amateur on a 125 in the late 90s.
We pitted on the gravel by the scoring tower. I wanted to pit over by the DGY trailer by Chuck and Scott, but it was a popular area that was already too full when we got there. Unpacking was quick and uneventful.
I was still using the tires that had come on the bike just to get acclimated. The plan was to change to the new Bridgestones after my race on Saturday.
The practice went pretty well. The first session I just kind of rode around relearning my shift points and trying to remember the little details about Blackhawk as well as getting reacclimated to the 125. At one point I realized that my riding my R6 the year before had actually changed my riding style for the better, as I was hanging my body off of the inside of the bike much more easily than ever before. Who would have ever thought that riding a 600 could improve my 125 riding?
I rode by myself most of the morning, and then in the afternoon Steve and I did some follow the leader drills where we would swap positions back and forth during the course of a session to see how our approaches differed and discuss afterwards. We were getting back to the routine...come in from practice, put the bike on stands, put on the tire warmers, refill the generator gasoline, restart the generator, discuss the session, do any mechanical work we needed to, and go back out.
My bike was dying a few laps into each morning session (and then restarting with no apparent problems) which I finally traced to the fuel hose vent leading to a sealed catch bottle.
A couple of sessions into the day, I wandered over to tease another rider about having flowers on her bike. Turns out it was someone I had actually met before. Jen is an instructor at my friend Sarah's school (check it out at www.motorcyclelearning.com). She came over to pit by us for the day.
After the afternoon sessions, I ended the day satisfied with the progress made. I still had some work to do with the lean angle aspect, but riding the bike felt natural and it was just going to take some time to get back to it. It was great to see a bunch of other 125s around the pit area.
Late in the day, we went to go register for the weekend's races. First, there was some gross inefficiency in the line...not sure exactly what was going on there. We stood in the same place with the same 20 people for about half an hour with nothing happening, so we decided to do a track walk instead of wait in line and then come back.
The track walk was beneficial to both of us as we discussed what we were doing at different points in the track. This also caused Steve to decide to change his gearing to match mine for the weekend (which I think worked out for him).
When we got back to the tower to register, there was no line, but now there
was a huge misunderstanding on the part of the CCS staff who didn't want to let us use our USGPRU licenses as CCS licenses. Instead of believing my "crazy story" about how the licenses were equivalent (which was the truth!!), they instead insisted on us buying new licenses complete with new numbers...and of course our normal numbers were already taken, so we would have to choose new ones. After hearing Kevin Elliot (CCS Man In Charge for lack of a better title) was going to be there in the morning, I just finally yielded and decided to discuss it with him in the morning.
We left the track late. Both of us were frustrated about the hoops we had to jump through to get ourselves registered, and because we didn't know what numbers we were going to use, we would have to go through tech inspection in the morning instead of getting it taken care of in the evening (which makes for a much more hectic morning). Grr.
Got some good sleep.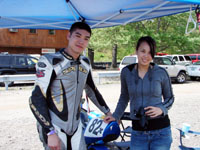 Saturday we drove 2 vehicles back to the track, as Nicole and Ria were our crew for the weekend. Traffic was bad because of some construction and we just barely made it into the track before practice.
Thankfully, CCS bigwig Kevin Elliot had straightened all of the paperwork issues out before we even got there, so the staff was announcing for Steve and me to go up to the tower as we prepared our bikes for tech. I ran up there and took care of it. They seemed apologetic. I just felt bad that the CCS staff weren't told the correct information from the get-go.
Before practice we went over how the girls could help us out during the course of the weekend (mixing fuel, helping us put the bikes on stands, putting on and taking off tire warmers, mixing fuel, starting/stopping the generator, that sort of thing). Their help was really appreciated. Thanks Nicole and Ria!
Practice was a lot more crowded than on Friday. I had forgotten how many lightweight bikes there are when you combine experts and amateurs onto one track. The bike was working well, and before the session I had changed a setting on the rear suspension to make the bike finish the turn better which ended up working out nicely.
gt lights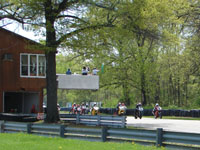 I was gridded on the first row for some odd reason...I didn't preregister, so I'm used to starting from the back at CCS races. To be honest I was a bit nervous about getting pegged by one of the bigger bikes on the start as I haven't launched one of these bikes in quite some time. It was not unusual in the old days to give up 10 bikelengths on the start to pretty much every 4-stroke bike on the grid (GT Lights is against bikes like the Suzuki SV650, Ducati 900SS, etc which can all be highly modified under the CCS rules) . However, I had done a couple of practice starts in the pit lane going out for practice, and that didn't feel too bad.
I was getting some butterflies as our bikes were warming up. It has been a while! :) As usual, I went out almost last on the warmup lap so that I wouldn't be waiting on the grid for too long. As I made my way through to the front of the grid, I felt the tension building. I love racing. :)
I hadn't really thought about it much this year, but I have a routine I follow every time I pull up to the grid. I follow it every time unless I got up there really late, and I think it helps me focus. As the 1 board twisted sideways everyone's engines roared and shrieked (or made a chainsaw sound)...and we were off. I got a fairly good launch and surprisingly only lost a few positions on the run down to turn 1. Scott Trautmann had gotten a great launch also, and as I noticed this, a very loud Buell came by like a freight train on my left side and then almost collided with an SV650 rider who was right in front of us. 2 seconds later I returned the favor by going to the outside of him and passing him into turn 1. The Buell repassed me on the exit but checked up in turn 2 and I was around, never letting off the gas until the markers for turn 3.
There were only a few bikes in front of me now...a couple of riders immediately in front of me who were trailing Trautmann on his tricked out RS125. I passed both riders on the outside of the turn 3 carousel and then there was a small gap up to Scott. I put my head down and was able to close him down as the lap progressed. Little did I know it was because the right side of his tire was roached...and as a result he couldn't get a good drive onto the front straight, and I passed him there starting lap 2.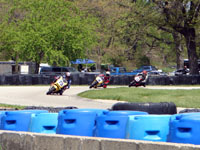 The next bike ahead was Gary Palmer on some pumped up Ducati 750SS (I think). He was riding very well and I wasn't able to close up much the next lap but I was able to put a small gap on the two riders behind me. Lap 3 was more of the same...closing on Palmer slightly...but with one small (but telling) deviation. As I braked into turn 7, my brake lever came back a lot further than the lap prior. I still made the turn, but I ran pretty wide and lost out on a good drive. I thought about this as I came down the front straight, looked back, and then sat up and did a brake check just after the scoring tower (which is very, very early on a normal lap).
What I was greeted with was the front brake lever coming all the way back to the bar with no resistance. So, to review, the scenario is that I am going something over 100mph towards a corner that is probably 50mph without my primary brake system. What followed was a grim realization that I was not going to be able to scrub off enough speed to even attempt to make the turn. I began applying the rear brake while furiously working the front brake lever trying to get something to happen...anything. There was nothing...the lever kept hitting the bar! I remember thinking, "this might hurt."
My rear tire locked up once briefly, then I let up enough to let it slide. The turn was approaching very quickly now with me having at least 30-40mph too much entrance speed, I locked up the rear once again and the bike slewed out to the left quite a bit. I must have then released the rear brake, because I was then treated to a nice violent highside that catapulted me over the handlebars and onto the pavement. I hit left hip first, then left shoulder, then forehead, tumbling into the grass and then finally into the high grass. I closed my eyes and tried to just keep my hands in. After rolling what seemed like a dozen times I stopped face up in the tall grass. It seemed so silent and peaceful now...like I had just woken up from a nap. *tweet tweet tweet*
I stopped to gather myself for a few seconds, then slowly waved my hands the air to tell the cornerworkers I was relatively okay. I sat up and didn't even know which way the track was because I was so far into the tall grass. Finally I stood up and my senses came back to me; I could hear and see bikes and the corner marshal's yellow flag waving. I walked over to my bike (which looked like it had survived pretty well) and stood it up, testing the front brake lever. Still nothing. I started pushing the bike to the side of the track out of the impact zone with the cornerworkers' help.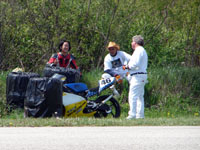 I watched the rest of the race from outside turn 1 after parking my bike by the tire wall. The cornerworkers said it was a pretty violent crash and that they were surprised to see me get up so quickly. I looked over the bike and the brake line was intact...the caliper mounted, and I didn't see brake fluid everywhere...so what had happened?
It seemed like an eternity watching the race knowing I wanted to still be out there. I watched the front of the field spreading out... Key, Lacy, Palmer, Trautmann, Tom... I saw Steve really working hard to pass some expert on a quick FZR400. Finally it was over. They asked me if I needed a truck, I said no, and then I pushed my bike across the track and into the pits.
Interestingly, the bike now had a functional front brake! WTF...
Nicole was waiting at the pits as I slowly made the "walk of shame" back to our area of the paddock. I think she had freaked out, but then she did the right thing and went to the scoring tower and asked about me. They pointed her down to turn 1 and she had seen me talking with the corner workers, so she knew I was pretty much okay (or at least not dead).
Steve took the bike from me, and I sat down for a few minutes. I was pretty battered. My left hip, neck, shoulders, and the middle of my chest hurt a bit. Shock is a wonderful thing. At any rate, I was functional.
It was easier to look at the bike and start fixing it than it was to sit there and hurt, so I popped some Advil and got to work. The tailsection was mashed pretty good, the clutch lever was broken, and the left bar was bent, but it seemed like the frame sliders I got absorbed most all of the damage. They worked great! They are available from Rick over at www.accu-products.com. Other than these things, the bike seemed to be pretty good except that it was very, very dirty from trying to bury itself in the soft dirt. Steve helped me clean it all off...we took off the carb and reed cage and just cleaned the hell out of everything. Thanks, man.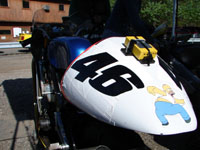 In the meantime people were stopping by and asking me what happened, telling me what the crash looked like, or offering me assistance and/or parts. Scott Trautmann came by with a tailsection (that had a big Homer Simpson pointing to his ass on it) for me to borrow, and Travis lent me a front brake master cylinder (that I didn't end up using, but thanks anyway!). 125GP people tend to stick together. :)
I took my rims over (to the Michelin truck, actually) to get Bridgestones mounted on my bike for the first time. It was then that I was informed that my front rim was bent. Ouch. Luckily I had another one with me. At one point Nicole and I walked over and got some ice cream.
On to the cause of the crash. After some reviewing on my part, I realized that although I had been talking about it for about 2 weeks (ask Steve and Nicole both), I had not gotten around to taking the 10 minutes to change the brake fluid in the front master cylinder. This old brake fluid had apparently (over time...who knows how long it had actually been in there) absorbed some water into it, and when the brake system got hot enough to boil the water, the water turned into steam and as such the hydraulic pressure was not working which caused the whole system to not work until the system temperature got down to where the steam turned back into water. The reason this had not happened up until this point was that I was riding harder than I had been up to that point, and the outside temperature was also the warmest it had been in any session I had run the bike.
So the solution ended up being simple...I walked over to the Lithium pit and bought some good Silkolene brake fluid. Steve and I then cycled about 3 batches of fluid through the whole system. The test would be in practice on Sunday...if my body was up for riding.
sunday
Sunday we pulled into the track after just barely making it to the gate before it closed for practice. If we had cut it close on Saturday, that was nothing compared to Sunday. The red light was flashing and the gate was closing and the workers looked at one orange Honda Element and one blue WRX barreling down on the gate and left it open just enough for us to squeak through. Whew.
I had some work to do on my bike still, so I got busy. I noticed I had been losing some water every session on Saturday and my engine temperatures were rising as a result, so I pulled the cylinder head and replaced the o-rings (this is usually the source of water leakage in the system).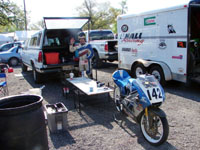 Rob had shown up with the motor from our spare bike installed in his bike. Was good to see him back out.
Practice was a little tense for two reasons...I was pretty beaten up from Saturday's crash, and I was only about 95% sure that the brake fluid was the problem that caused the crash the day before. I went out just to see if I could do a few laps to see how I felt. After 3 or 4 laps I decided we were (both me and the bike) pretty okay, so I pulled in and saved my effort for the day's races. I was having a little trouble flicking the bike from full right to full left lean with some pain in my chest and weakness of shoulders, but other than that I was just sore.
125 grand prix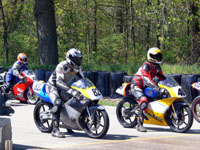 With me being injured, I really had no game plan for this race. I was going to concentrate on a good start and just see how the cards fell regarding bike feel and my injuries from the day before.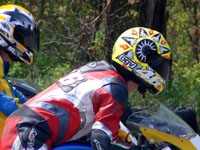 There were more 125s than I thought there would be...about a dozen. At the start I got a fairly good launch and was 2nd into turn 1. I was feeling pretty good about everything until turn 3, when I somehow got nervous about the entrance speed. It took me the rest of the lap to shake off whatever it was that was bothering me...I guess they were probably the crash demons whispering to me (those pesky devils tend to follow you around after a big crash to scare you into going slower than you should be).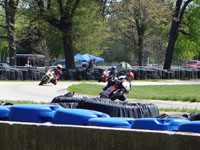 Scott had his head down and probably had a good 1-2 second lead already coming down the front straight, but now I was ready to hunt. However, it seemed Tom Swager had other plans...
Just before I began to brake for turn 1, I heard a bike approaching quickly on my right side and the silver bike of #82 slid into view and executed a nice block pass on me into turn 1. Unfortunately in doing so, he outbraked himself to the point where he could not make turn 1 with any kind of normal speed, and since I was trapped on the outside of him to his left, I could not turn in either, so we both downshifted an extra time and waited for Tom to recover. As we accelerated away in the middle of 1st gear (instead of the top of 2nd gear) from turn 1, I witnessed for the first time how quick Tom's bike was. A little demoralizing to say the least... He was pulling away on the gas all the way through turn 2. I gained a little ground under braking for turn 3 though and slingshotted off the corner to get a better drive into 3a.
On the brakes we went, and I made a close pass on the inside to take away his turn-in. This playing around had given Scott another second or two to pad his lead. At that point I was a little mad that the shot at the win was gone, but it turns out I would have my hands full just keeping ahead of Tom.
I think I pulled a little gap on him until we got over to 6a, and from then on it was just managing the space between us. A couple of laps later he did pull partway alongside me under braking for turn 1, but I was braking pretty deeply by now, and he backed out. At the halfway flag, I mustered what energy I had and put in two good laps to get out of his reach for good. I could barely see Scott in the distance at this point.
It was also at this point that I noticed my temps were going up dramatically...as in, I wasn't even sure if I could finish the race. I was trying to short-shift down the front straight a bit, but I watched the temps creep up anyway...
I am usually looking around to see where people are, and usually it's not an issue, but this time on the last lap, I looked back and actually missed an upshift while going up through the gears and just barely held off Swager before the line. Whew. He really kept me honest!
My temperature over the finish line was 81 degrees...normal temps are 50-55 degrees Celsius...
So, not bad for my first complete race back. But a tougher race was to come later in the afternoon against the larger lightweight bikes. There was a large gap in time to blow now, as there was a two hour Team Challenge race that started at noon. I had a chance to look over my cooling system and found a radiator leak near the top of my radiator. Chuck helped me JB Weld it back and we sat there for some time and straightened a bunch of radiator fins. Thanks Chuck!
Also during the break I was wandering around and found, of all things, a Bridgestone vendor. We had not been aware that there would be a Bridgestone vendor at the track in the midwest this year, so that was a nice surprise.
I was looking over my bike some more later in the afternoon, and I noticed that the tires didn't seem to be heating up as nicely as the Dunlops I was used to running. This was traced to running too high of tire pressures. Bleh.
lightweight grand prix
Although sore, I was feeling a bit more comfortable on the bike now, and I knew where I could push and where I was too weak. I got a great start in this one from the 2nd row. After a somewhat frantic first lap dealing with larger and more powerful 4-stroke bikes, I was up to 3rd by the end of the carousel on the 2nd lap with only Ed Key and Randy Norian ahead of me.
It took me a lap or so to slowly close the gap to Randy...he was riding pretty well on his Honda RS250. I was able to catch up, but passing him where I could make it stick was going to be another matter. He seemed to always be where I wanted to go! I shadowed him for a couple of laps trying to figure out where I wanted to make the move.
I really good drive off of turn 1 one lap later, and was able to be close enough to outbrake him into the Turn 3 carousel. This was good, because the next part of the track where he could really use his power advantage fully wasn't until over by turn 6a, and with some hard riding, I was able to pull out enough of a gap to where he didn't get me down the front straight.
There were only a couple of laps left now, and we were starting to get into lappers, so I kept looking back to see where he was at. He was not quite close enough. I was going to take 2nd!!
Midway through the last lap, I looked back and all of a sudden there was another bike all over Randy...who the heck was that? I was rocking now (er, as much as I was able to after Saturday, anyway) though, and I held a good gap until....coming up to the very last corner...I see a backmarker...on a bike I recognize. It's the ex-Harry-Gambill Suzuki SV650 with a recent LCR graduate on the back of it complete with LCR t-shirt over leathers!! Uh oh...he was going to be in my way. Very in the way. I had a choice of stuffing him on the inside very hard or waiting outside for him to run wide on the exit. I chose the safer of the two options, but unfortunately, he kind of rode the middle of the turn the whole way through, and it balked my drive completely. I was on the gas and passed the SV with about 3 inches to spare on the outside on the exit of the turn, but I knew the battle was already lost as both 250gp bikes took me on the run down to the checkers in the last 50 yards. Randy came by with none other than Brian Kwak (Yamaha TZ250) trying to draft...but he just lost out on the position at the line.
So initially I was actually quite pissed...I had gone from 2nd to 4th in the last 50 yards of the race after a lot of hard work. But it was good fun, and I hope to be healthier the next time around. >:)
BTW, the radiator fix worked. :)
Packing up was a cinch with Ria and Nicole and Steve and I all pitching in. I was actually starting to hurt more now, so I wasn't able to lift heavy stuff, so thanks for bearing with, guys.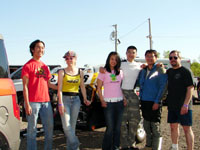 Crashing aside, I had a good time this weekend. I feel like I'm bonding with my new bike, and it was great to see some old faces as well as meet some new ones. It was also great pitting with my teammate Steve. His introduction to the expert lightweights has been a tough one, but I'm sure he'll be running at the front in no time.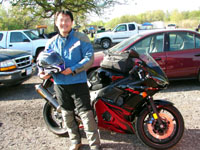 A big thanks has to go to Nicole who helped me out all weekend. From taking pictures to dealing with the generator and putting on and taking off tire warmers to mixing fuel, she was great to have around both race days. Thanks to everyone else who came out to support us this weekend - Ria, Nhut, Graham, Harry, Mike, Paul, etc...it was great to see everyone.
Also, thank you to my short list of sponsors for the year: Bickle Racing and Bridgestone motorcycle racing tires.
Until next time...