ccs midwest round 3 - may 6-8, 2005
blackhawk farms raceway - south beloit, il
jeff chen - ccs midwest expert #46
movin' on up
(click for...that's right...the jefferson's theme song)
background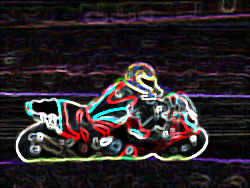 So, I had plenty to take care of after my first race round of the season and 3 weeks to get it together...
The most pressing issue was the rear spring being suspected of being too stiff. I ended up taking my rear shock off the bike (big thanks to Boyd for the use of his garage, lift, mechanical knowledge, tools, and for generally giving me sh!t) and taking it up to 4&6 Racing up in Skokie to talk to Jim Rashid. Jim used some weird proprietary tool and swapped springs from a 10.5kg per errrrrm...somethingsomethingsomething (ummm stop me if I'm being too technical) spring to a 9.0kg per somethingsomethingsomething spring for me while I waited, telling me that the spring that was on there was more suited to a much heavier rider--more like over 200 lbs...no wonder it felt too stiff! I got to visit some with my racing buddy Rhiannon while I was there as well.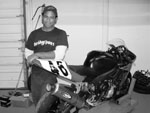 Uninstalling/reinstalling the shock was a snap. The hydraulic lift made things so easy! One of these days when I get a good garage spot I will have to pick up one of those. Boyd and I did some basic suspension measurements while at his shop...the numbers were now much closer to what they should be. Good news.
In looking over my bike during the first weekend, I knew that I was in need of brake pad replacement, so I had ordered some EBC HH sintered pads and Speedbleeders. Speedbleeder used to be a sponsor of Dark Horse Racing a few years back, and I really got to believe in their products...they manufature a brake bleeder nipple (that sounds if you think that sounds dirty, just wait until you see the animation of the product on their home page) that allows you to change brake fluid and get air bubbles out of the brake lines quickly and easily. Anyway, I ended up taking an evening and installing everything at once...SpeedBleeders, new brake pads, and freshening up the brake fluid with some generic DOT4 brake fluid (more on that later). I also taped a note on my gas tank to break in the new brake pads (there is a specific procedure to do this to prevent a situation called glazing which makes your brakes...well, not work) before going gangbusters during practice.
I also changed the oil and filter on my bike. Exciting stuff. YAWN!!
In the week before this weekend, I also decided to try out some high-dollar oxygenated fuel to see if my bike would respond better with the fuel map I was using. After some effort trying to locate some Nutec (which the bike was supposedly set up for), I settled on VP racing fuel; it's much easier for me to get (in case you haven't discovered this about me just yet, I'm lazy...). Initially I tried to get it from the nice folks at MD Racing, but they weren't going to be able to make it to Blackhawk that weekend, so they referred me to Lithium Motorsports.
Packing up the trailer for the weekend is such a chore! I will be so happy when I have a two car garage to myself. One day...
The weekend weather forecast was kind of all over the place. Different websites were all saying different things with varying chances of rain. I had already decided that I would not race in the rain until I got comfortable with this bike in the dry.
friday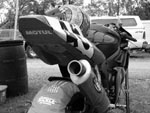 I headed up pretty early to practice armed with an adequate dosage of some strong Krispy Kreme coffee (yummy). As I set up my pit area, I blocked off an area for Chuck to pit in. This was to be Chuck's first race weekend of the year, and I was excited that someone else from the old racing gang was going to be racing at a weekend with me. Dirk was coming up again to help out too (and bringing me my generator).
After getting my pit area set up, Chuck showed up and began to unload his stuff. I started my R6 and rode down towards the entrance to the track to get some room to break in my brake pads. The procedure goes like this: do 50 hard stops from about 10-20mph and then let the pads cool down to air temperature, and then go out onto the track and do 2 slower laps, 2 fast laps, and then come in and let the pads cool down completely. As I did the 50 hard stops part, I was pleased to discover that the EBC HH pads offered much more initial bite than the SBS pads that had been on there. I tend to like this more aggressive setup. I was able to lift the rear end of the motorcycle off the ground fairly easily under heavy braking. While this is not usually desirable in a race, you have to know where that limit is in order to ride near the threshold of braking under control. Cool.
Somewhere in here, I went over to the Lithium Motorsports pit and bought two 5 gallon cans of VP U4 racing fuel. The "U" stands for Ultimate. Sounds exciting, huh? Well it should, for $60/barrel! And that's the cheapest racing fuel VP offers; I think MR9 can be over $110 per barrel! Ouch.
I decided to run Friday practice with the tires that were on my motorcycle from the last weekend and put new ones on for Saturday. Dirk was not yet there with my generator, so I took it easy for the first couple of laps of the first couple of practice sessions.
The bike felt a LOT different to me this weekend out. I think it helped that I was getting used to the speed of the bike in general, and as such I was much more relaxed.
Initially, the rear suspension felt very loose to me, and it took me a while to figure out that this was because the rear suspension was actually moving (!) and as such doing a much better job of keeping the rear tire in contact with the pavement now that the correct spring was on there instead of the rear of the bike being as stiff as a board. As soon as I realized this, I realized that I could go substantially faster since the rear of the bike was now hooking up and catapulting me forward instead of simply sliding. I was still sliding, but I was pretty sure that was because the tire was now a couple of racedays old.
The brake pads were great, but as the day went on, I noticed that the effort to brake would increase every session while I was out on the track. This is called brake fade. With new fluid in there, I wasn't really sure what to change about the system. I bled the brakes again during the day to see if there was any air in the lines, but again the brakes were superb at the beginning of the session and mushy at the end. Hm.
The fuel change made itself immediately apparent. The bike sounded different, and the bike was making more power. At first I couldn't figure out why I was overshooting all of my braking markers even though the brakes were more aggressive...turns out I was able to open the throttle earlier in the corner because of the rear suspension change and additionally had more power, so I was going a lot faster down the straights and trying to use the same braking markers as last weekend. No wonder...
Chuck got his hybrid Yamaha TZR (a production TZR250 frame with a highly modified RZ350 motor stick into it) fired up during the morning, but unfortunately he had a variety of teething problems that conspired to prevent him from getting many practice laps in.
Charles came with some friends to take some pictures, too, which was nice. He was around the pit most of the day. Here's kind of a cool action series taken during practice that kind of gives you an idea of how close together people can ride if you trust what the other rider is doing. This sequence was taken in the quick turn 5 which is the top of 3rd gear, or a speed approaching (if not exceeding) 100mph. I really like the second picture because I'm pretty much completely covered up by the bike in front of me. :)
At lunchtime, Chuck and I went over and ate under the pavilion. I also brought my spare wheels over to Tom at Mason Racing Technologies to mount up a new set of tires for Saturday. He had a new compound of rear tire that was supposed to be a bit more durable, so I decided to go with that instead of the PR5 I had been using.
Dirk showed up a little after lunch. After I described my front brake problems to him, he kept babbling on and on about brand name brake fluid and how different it was than something you might buy at Murray's, but I wasn't convinced. I was starting to think it was the brand of brake pads I had purchased.
Unfortunately, Chuck did a little offroading on his hybrid during the afternoon, but he was up and okay, and Dirk was able to take the bike out in a couple of the afternoon sessions to help diagnose what was up with the jetting and ignition.
I did only a couple of sessions after lunch while tweaking some suspension settings. Although the behavior of the bike was worlds better than the first weekend, the rear tire was starting to slide quite a lot now as I gained confidence and started pushing harder and harder. I was convinced that the tire's useful life at an elevated pace was finished. So, instead of practicing outright speed, I practiced passing.
One thing I try to explain to people that aren't familiar with racing is that turning fast lap times is only half the battle during a race. The other part of racing is more of a mental game. Usually through any given set of corners, there is an optimal "racing line". This is the path through that set of corners that will (hopefully) give you the best lap time at the end of a lap. If you think about it, though, during a race, not everyone can be on the ideal line. Why is that? Because if everyone ran on the same racing line, they would not be able to pass each other. For this reason, it is important to be able to vary from the ideal line in order to establish position against a competitor. This can be a very complex game, especially if the rider who is being passed knows that his/her position is being threatened and is trying to shut down passing attempts or if more than one rider is involved. But I digress...
I had accomplished what I needed to during Friday practice, so I let Dirk out on my bike for the last session of the day to get his opinion on the changes we had made. He came back in saying it was much more ridable than the weekend before which agreed with my assessment.
I signed up for my weekend races.
Chuck had an extra transponder mounting bracket, so I attached this semi-permanently to my R6's tail section. Much better than duct tape and zip ties... :) Thanks, Chuck. I want to start getting lap times during practice days, though, so I think I'm going to try to get my own lap timer device before the next round.
We packed up leisurely...which ended up being a mistake because one minute it was nice and sunny out, and the next it was POURING down rain. We scrambled to collapse the canopy down and get everything thrown into Chuck's trailer (thank you for leaving that, by the way, Chuck) and/or my Element and then we called it a day.
saturday
As Nicole and I headed out from Chicago early the next morning, the weather looked great! You know what that meant, of course...as we approached the track, it started to rain lightly. BOOOOOO. :)
practice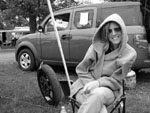 The rain continued on and off through the morning. During this time, hardly anyone was going out to practice, as the rain was supposed to clear during the afternoon, and nobody really wants to practice in the wet for a race that will be run in the dry; it screws up all of your timing, and there is an increased risk of crashing.
So in the meantime, I put on my new tires and bought another can of fuel and some Silkolene brake fluid. After the tire replacement, I replaced the brake fluid I had with the Silkolene stuff in hopes that this would cure my braking issues. A hell of a thing to try in a race, but oh well...
Nicole helped me finish filling out my tech form and my contingency form. I brought my bike through tech inspection without any drama and got my grids...since I was registering late, I was on row 6 for Middleweight GP and Row 5 for the 30 minutes GTU race.
The rain never really came down very hard, and suddenly around lunchtime the wind picked up a little bit and the sun started blazing. I would be able to race. :D
We had everything in shape for the race this time..the proper tires were on the bike, and the warmers were on the tires, so I was pretty confident things would roll smoothly...no more cold tires! Yay! But then...
The rider's meeting was uneventful. I arrived back at the pit to find a distraught Nicole. Uh oh. She had been trying and trying, but she couldn't get the generator to start! It was being stubborn for some reason. After several minutes, we finally got it turned it on, but now it was only 15 minutes before my race started, so once again I would start the race on new tires that had not been properly warmed. BLEH. Why does this sound familiar? :)
Rob, an old teammate of mine, showed up to help out and spectate at about this time. I surprised to see him, as he had not told me he was coming, but it was a nice surprise. He also told me Nhut (another ex-teammate of mine) was on his way. Sweet!
expert middleweight gp - 8 laps (race 1)
Nobody had dry practice laps from the morning, so I'm sure we were all feeling out the track condtions as we headed out for the warmup lap. The track was completely dry, though, so I decided to go easy for one lap (since my tires were not remotely warm) and then really put my head down during the race.
I had not practiced starts the day before, and I think I needed to. As the green flag dropped, I lost a little ground on the row of racers I was on. I was riding at about 90% for the first lap, and I think I got passed by only one person, but I was at the tail end of a large group of riders that were all duking it out as we crossed the line to start lap 2.
Having confidence in my new tires, I began to ride aggressively, making passes in the places that I had rehearsed in practice the previous day. This was working beautifully as I made my way through the pack until I ran up to the back of Jeff Purk (a highly respected racer).
At this point, I was riding faster, but just barely, so I was having a difficult time finding a good place to pass him even after a couple of laps of following him. Frustrated, I attempted a rather desperate move 3 or 4 laps into the race where I got a good drive off of turn 5 and attempted to outbrake Purk into turn 6. This seemed like a good plan, but Purk was also hounding a rider in front of him, and I almost ran into that racer that was in front of Purk while I was attempting to make the turn. Luckily he heard me coming and made room, and everyone got through the corner unscathed, but I felt badly about it. I waved appreciation to the rider as I made my way past and bore down on the next two racers in front.
It was about this point that I started riding fast enough to drag something on my bike through the extremely fast left-hand turn 5. "A footpeg," I remember saying to myself. "Be careful."
Eventually after making it past the next couple of riders, the gap to the next rider was a little too big, and a quick glance behind told me that there was nobody within striking distance behind me, and I began to ease off the pace a little bit. At the end of this lap, though, yellow and debris flags were waving over in turn 6a with two bikes WAAYYYYYY off the track, and there was a red flag at the scoring tower (which signifies that the race has been stopped (usually due to some unsafe condition). I coasted around on the cool-down lap and saw that one of the downed bikes was local fast guy Hall (#69). I stopped in the pit lane to try to apologize to Purk and the rider that had been in front of him, and Purk gave me a shake of the head (which I deserved). The other rider (whose number escaped me) looked over, grinned, and said "Thanks for not taking me out!!!" :)
I later found out that one of the bikes sitting out by turn 7 was a bike that had blown his motor up, and the other bike was the race leader who had been leading by something gargantuan like 10 seconds who then crashed on the blown bike's oil that was on the track and broken his leg. :( The race was red-flagged just after the leader went down.
The brakes had not faded during this race, so the brake fluid swap to something name brand had done some good. Thanks, Dirk. :)
Later, I was pleased to find out that my efforts had earned me a hard-fought 6th place! Things were coming together. Nhut had shown up; it was good to see him again.
After the race, I had been looking at the bike and realized that it was not my footpeg that had been dragging in turn 5...it was the shifter. Now, I know I like to have the shifter height pretty low to get better leverage for downshifts, but this was clearly unacceptable to have it dragging on the ground, because if I dragged it too hard, the bike would downshift in mid-corner and probably throw me off! Hm. I would have to really try hard to fix my body position from then forward to keep the shifter off the ground. Hanging my head more to the inside of the turn would allow the bike to turn at the same rate without as much lean angle. This is a real battle for me to change, as I can go very fast without using this radical hang-off kind of style, but apparently in this particular turn, my lean angle was a limiting factor.
There were several races between MWGP and GTU, and things were so exciting that I ended up taking a nap between races. I love my Honda Element.
This time, there would be no problem starting the generator on time or having any preparation problems. So, all I had to do was ride my heart out. And I could do that, right? :)
expert gtu - 30 minute endurance (race 7)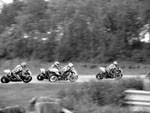 I felt really good riding the warmup lap for this race. Although I was a bit tired, my riding as a whole was getting a lot more relaxed as my experience level with this motorcycle has gone up, and I was pretty confident my endurance would hold up through this long race. Also, it was great having good friends alongside to help out with things during the day.
My start was a smidgen better this time out, and I managed to make a couple of passes under braking for turn one.
I managed to get a good drive out and made a move on the racer immediately in front of me between turns 1 and 2, but since that set me up on the inside of the turn, I couldn't carry quite as much speed as I wanted to through the turn and up to turn 3. As I was braking for turn 3, a racer on a yellow bike (#762) outbraked me on the left (turn 3 is the right hand carousel) and then in a super aggressive move slashed right across my front tire. I swear if I had not gone into emergency avoidance mode that he would have touched my front wheel, and I am not shy about riding in close quarters. Geez.
I was kind of irritated about that move that was made on me. This served me nicely as I put my head down in full pursuit. I tailed closely for a couple of laps as we worked our way further up the pack. At one point I made a pass around the outside of the turn 3 carousel that I felt pretty good about. I was chained to the back of the #762 bike, and each time he passed someone, I could reel him back in after my pass on that same person within a few corners, so I felt I would eventually get to the point where we would be competing for position again.
I watched as #762 made extremely close passes under braking for turn 7 two laps in a row as he moved through the field. On one of these passes, he actually brushed up against another rider, as the rider did not expect him to pop through there on the left side (heck, there was only about 2 feet of track available each time). Finally, there was nobody in close proximity in front of the #762 bike...we had cut through the part of the pack that we could.
I was strong in turn 5, which is the big sweeping left hand turn where I had been dragging my shifter the race before. Now that I was paranoid of it dragging, I was forcing myself to hang my head off of the bike (at least it was working in that turn), so I was going as fast as ever and not dragging anything. For two laps while we were kind of by ourselves, I stuck to the back of #762. He knew I was there, but at this point he wasn't riding too defensively. I decided not to wait until the end of the race so I could see if he was holding anything in reserve, and I thought he might be holding me up a bit; on the next lap I was able to pull up alongside as we exited turn 5 and outbrake him into turn 6, pulling past under braking (but not all the way) so that he would not be able to outdrive me out of the turn. From there I decided to not look back and tried to put together 3 laps with minimal mistakes.
I was not shown a wheel (in racing terms that means that I was not aware that anyone was trying to make a passing attempt on me) during these 3 laps, and the next time down the main straight, which I believe was something over 10 laps into the race, I chanced a glance backwards just before the scoring tower. I saw nothing. Excellent!
I began to look up ahead, and on the front straight, I could see that about 3/4 up the front straight there was another bike who seemed to be going approximately the same pace as I was. Well, that's a long way, and I had expended quite a bit of energy so far, so I put it on cruise control for a few laps trying to conserve energy and be aware of things.
From this point, the laps seemed to go on and on. Things aren't that interesting when you are riding around by yourself regardless of your race position. I noticed that someone on a yellow bike (presumably #762) had been able to close to the point where I could see him if I turned and looked back about halfway down the front straight. I put my head down again to see if I could get him to give up the chase for 2 laps, and it seemed to work because he was not in sight again.
Finally, the white flag waved (signifying the last lap of the race), and as I came into turn 3a, I noticed I was closing rapidly on a rider that we had already lapped once. I took a long look behind me and decided to just follow the slower bike over the line instead of passing him; he had been demoralized enough. Anyway, this allowed the yellow bike to be within a couple of seconds of me by the time we took the checkered flag, but I finished comfortably ahead of him. We gave each other a thumbs up on the cool-down lap.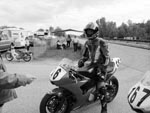 On my way into pit lane, I was just about to turn to go to my pit when Rob, Nicole, and Nhut ran up, out of breath, signaling me to stop at the pit lane. Huh? Why do I need to stop? It turns out I had finished 3rd, Rob had somehow gotten the announcer to interview me after he interviewed the winner (Dan Doty). This was both exciting and unnerving...I had nothing prepared. Basically I said that it was good to have gotten my mojo back after a long layoff and coming back on a new bike. People actually clapped!
After I got back to my pit, we packed up, and then I went to go get my finishing positions and times. In the first race, I had finished 6th of 28 riders after being gridded on row 6, and 3rd of 20-something riders after starting from row 5; I felt pretty good about what I had done. Also, probably more importantly, I had tons of laps in the 1:13.x range with a best of 1:13.2. You could see that as I got tired in the GTU race, my lap times dropped into the 1:14s, but whenever I would put on a charge, I would go back into the 13s. The winner of each of those races were running consistently in the 1:12.x range, so I have a little way to go, but this was much better than the 1:15s that I was running last weekend out while riding on the ragged edge all the time. The bike setup and seat time made all the difference.
My tires were SHAGGED UP after this race. Unfortunately, there is a rule in racing that says the faster you go, the more expensive it gets. :|
We packed up and headed out for an excellent dinner with Dirk and Jess and then called it an early night.
sunday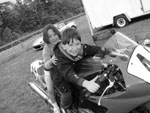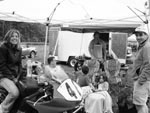 Sunday was a pretty laid back day. Practice went fine, but I really was just playing around with suspension settings trying to get more stability (which worked) and saving my strength for the afternoon's Middleweight Supersport race. Charles/Leyna and Scott/Daniel came up to watch, but it was not to be that day...
Just before lunch, it started raining, and I am not to the point where I'm comfortable enough to wrestle this wild thing around in the rain yet, so that was the end of my day. Besides, that would mean I would have to buy specialized rain tires, etc. Anyway, I'm sure I will get around to that this season, but I wanted to end the weekend on a positive note.
Here is another action sequence by Charles again in turn 5. You can totally see that the realization that I was dragging my shifter the day before inspired the necessary fear for me to actually do something about changing my body position, especially in the last shot (which is the lap after the rest of the sequence). Now, if I could only change my body position for the rest of the corners... :)
aftermath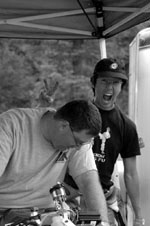 This weekend was a great confidence booster for me. I feel like I have most of the major setup issues worked out, and that leaves little things like riding technique for me to improve on. :) I feel like a reborn racer; I feel the fire again after rising from the ashes of my retirement, and I am ready to shine once again. Now, let's try a different track...
I would like to take the time to say thank you to the businesses that are supporting me this year either by direct sponsorship or via contingency: Motonation/Sidi, Woodcraft-CFM, Pit Bull, Michelin tires, EBC Brakes, and VP Racing Fuels.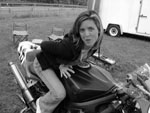 Lastly, thank you thank you thank you to the people that come up to the track this weekend to support me: Nicole, Dirk, Scott, Charles, and Rob. You guys rock, and the weekends are totally more fun with you guys around. Nicole has been especially supportive of my racing this season. I find this to be invaluable in many respects. Charles, thanks for lots of good action shots this weekend. By the way, you can see some of Charles' other photography work at www.dvkphoto.com.
The next race is at Autobahn (in Joliet) at the end of June, so I hope to see some familiar faces in my pit since that is only about an hour from home.
Thanks for reading, and until next time!
--
jeff chen
ccs midwest expert #46
jeff@dhracing.com