ccs great plains - june 24-26, 2005
autobahn country club - joliet, il
jeff chen - ccs midwest expert #46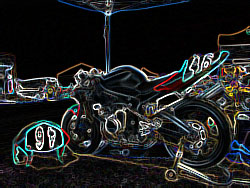 Crashing sucks; unfortunately it happens. Whether in a car, on a motorcycle, or, yes, on a scooter, given a long enough timeline, crashing happens. And when it happens, you better be wearing the right protection or Bad Things happen.
I use my Derbi scooter to commute to work every workday. It saves me time, saves me money, and is convenient and fun, but there are obvious risks involved with this form of commuting. Personally I think that riding my scooter to and from work every day in rush hour is more dangerous than riding my motorcycle quickly out in the countryside or even racing...there are just so many variables. But I enjoy the challenge...usually. On June 2nd, 2005 at about 4:40pm, however, gasping for air and lying in a fetal position in the middle of the intersection of Canal and Madison, I wasn't enjoying it so much though...
I was on my way home from work and was heading northbound on Canal. Canal is a wide one way street that has 4 lanes and a bicycle lane. With my Derbi having a 49cc engine, I am allowed in the bicycle lane (which is to the right of all of the normal lanes). By the way, I go out of my way to be very courteous to bicycles that are in this lane. Madison is also a large one way street (westbound).
I was coasting up in the bicycle lane quite some way from the intersection when my light turned green. I wasn't going extremely fast or slow, but by the time I hit the intersection I had had the green light for at least 3-4 seconds (which totally makes sense given a witness' explanation later). There was a large bus in the right lane which was blocking my view of the intersection, or I would likely have been going much faster. As it was, I was probably going 20mph and covering my brakes. Anyway, just as I reached the front of the bus, two pedestrians sprinted out in front of the bus directly into my path. I remember the girl having an orange shirt on. I would say that I had something less than half a second from when I saw the girl to when I hit her squarely with both my brakes on.
The impact was sickening. I don't really recall what happened immediately after that, but based on my injuries I think I had shifted my weight to the right slightly before impact and then the scooter hit the girl's body, my body flew forward and I took the right handlebar indirectly in the gut and went over the top of the scooter into the intersection.
All I could remember right after impact was lying down on the dirty asphalt in the middle of the intersection not being able to breathe and washes of people clustering around. The voices: "oh my gosh are you ok someone call an ambulance there has been a motorcycle accident someone go get help"... By the time I could even sit up, there was already an ambulance there, so I had to have been down for a couple of minutes at least. "Sit tight." There was an EMT there steadying me. I looked over towards the girl I hit, and she was down and conscious but sobbing about 10 feet away from me with a ton of people around her.
"Is she okay?" I asked. I didn't get an answer. Her legs were moving somewhat.
Now, being an seasoned motorcycle roadracer, I have had my share of crashes and injuries, so I think automatically I went into my own little routine to check myself out. My right collarbone and the right side of my ribcage was hurting like a son-of-a-bitch, but as I sat there and worked through all of the major bones and joints, I didn't feel much wrong other than that, so I took off my gloves and then began to take off my helmet so I could breathe a bit better. The EMT yelled at me to leave it on but then turned away, so I carefully removed my helmet. The EMT glanced back over to me and yelled at me for taking it off, then put some kind of velcro neck brace collar thing on me which was very uncomfortable. I told him that it was causing me a lot of discomfort, but he ignored me and walked away to another ambulance (which had magically appeared).
Of course, as soon as he had his back turned again, I stood up and took the neck brace off and did another check of myself. I could raise my right arm up, so my collarbone was not broken...that was good.
Eventually someone noticed that I had stood up and everything and wanted to put me in an ambulance. I was very suspicious that they were going to take me to the hospital, and as I had already diagnosed myself, I didn't want that to happen (unfortunately I know that ambulance rides are extremely expensive) because I didn't need it, so the conversation went something like this:
EMT: "Get in the ambulance so we can check you out."
Me: *looking the EMT straight in the eye* "You're not taking me anywhere, are you?"
EMT: "No, just get in."
Me: "If I get in that ambulance, you're NOT going to take me to the hospital, right?"
EMT: "Ummm. No. We just need to check out your vitals, blood pressure, stuff like that."
Me: "Because I am NOT going to the hospital because I don't need to."
EMT: "Ummmmmmm. Okay, but you will need to sign a waiver.
Me: "Deal. If this is a trick, I'm going to be very pissed off." *smile*
I got in the ambulance. As promised, they took my blood pressure reading and made me sign a waiver and didn't take me to the hospital. :) When I was signing the waiver, a little blood from my left hand got onto the form, so the EMT cleaned the very small cut on my finger (which somehow happened through the glove without damaging the glove) which actually hurt worse than anything else in the crash up to that point.
Finally I was allowed to leave the ambulance. The Derbi had been dragged to the sidewalk, and it looked like it had been driven off the side of a cliff and landed right on the front of the scooter. The front bodywork looked completely destroyed, the headlight bucket was totally missing, and every body panel was broken, missing, scraped, or contorted somehow. Bah.
Most of the emergency vehicles had left by now. There was an officer directing traffic; I asked him what I should do, and he pointed me to a squad car where another officer was writing up an incident report. He had me give my story, etc. and then I sat down to wait for him to be done for a long while. In the meantime I arranged how to get my Derbi home - Nicole would come get me with my Element (which the Derbi fit into nicely).
The long and the short of it was that I didn't get a ticket. There was a CTA employee witness who said that the couple hadn't even started into the intersection until our light was green, and they had to run across 4 lanes of traffic and a bike lane against the signal. The officer told me that that without that witness, he would have given me a ticket, but under the circumstances, he didn't really see how I could have avoided the situation, so no penalty was given. Also, this class of scooters is allowed to be in the bike lane (which matched my research).
Anyway, be careful out there, folks. Every time I think about the incident, I feel badly for the pedestrian, but then I immediately get angry at her for putting both of us in harm's way. If I had been a car, she would have been dead. If I had managed to avoid her, maybe I would just get hurt, or maybe I could have hurt someone else, etc. Luckily I was not hurt, and part of that is due to the fact that I choose to wear full motorcycle gear (helmet, gloves, armored jacket) during my commute.
How this relates to my racing: my ribs hurt enough that I had to skip a practice day at Autobahn the next weekend which was supposed to help prepare me for the race weekend a couple of weeks later. This was bumming me out because Autobahn was a new track to everyone, and I was hoping to get a leg up on the competition by going to an extra practice day before the weekend. Nope...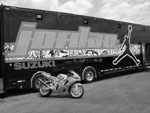 But, fortunately for me, the Tuesday before the race weekend (thanks to my friends Boyd and Montez), I was able to attend the afternoon session of a Jordan Motorsports (yes, Michael Jordan owns an AMA team now) track day at Autobahn as a guest. I was only invited the day before, so I had no chance to get tires, etc prepared, but I figured I would be able to at least learn the track layout a little bit.
As we arrived at the track, I was awed by the Jordan Motorsports semi trailer. There was one of Jordan's personal bikes there as well as Jason Pridmore's race bikes; all were immaculately prepared and very impressive.
From the 3rd lap of my first practice session my rear tire was sliding all over the place after being used very hard at Blackhawk the last round. Great. Also, turn 2 was so tight that I was having a hard time driving off of the turn in 2nd gear, and 1st gear was too short, so I decided to change my gearing before the race weekend started. I did 3 sessions in total and at least had some idea of the track layout.
Quick Autobahn (north course) impressions - small track (only 1.4 miles; here's a pdf), no time to relax...but a fun layout. Lots of transitions, fairly consistent surface, some small elevation and camber changes, decent run-off but totally unsafe pit-out, fm radio calls, good facilities including an outdoor shower head (which I would use at least 50 times over the course of my 3 day race weekend for some temporary relief from the heat), dusty, and still being developed...
Near the end of the day, I was socializing with some people in the pit, and they told me that one of the Team Jordan professional riders, Steve Rapp, was taking people out for 2-up rides on a GSX-R1000. I had to try it. It was a pretty eye-opening experience; the forces exerted on the passenger of a sportbike piloted by a professional motorcycle roadracer are pretty astronomical. By the end of the 4-lap experience, Rapp was hanging off, dragging his knee, and wheelying off of all of the slower corners. It was fun.
After the practice day, I went over to Boyd's shop (which should open soon, I think) and he fitted my bike with some frame sliders. Thanks again, Boyd!!
On to the actual race weekend... (crowd: FINALLY!!!)
Knowing that the day was supposed to be very hot out and that I had a limited number of things I wanted to test (mainly the gearing change), I pulled in pretty late in the morning for Friday practice and pitted by Chuck and Scott Ryan. I went and bought fuel and started my tire changes; I had a different (but still roached) rear tire I was going to use for the day to see if my gearing change (1 tooth up on the rear sprocket) was going to work. On my spare set of rims I mounted the new tires that I was going to use on Saturday.
The first session I ran, I noticed three things: 1) the gearing change was allowing me to get a much better drive off of turn 2, 2) this rear tire was just as bad as the one I had taken off, and 3) my brakes didn't seem to be working that well.
Lithium Motorsports was out of Silkolene brake fluid, so I ended up bumming some from fellow Michelin rider Edgar Dorn...thanks, Edgar.
The rest of the day I spent trying new lines and trying to be as smooth as possible to keep the rear tire from spinning on the exits of turns. I felt pretty good about the track now at least.
I put my new tires on in preparation for Saturday and then went home to get some rest. The day's heat had been stifling.
Saturday morning, Nicole and I drove out early. Nothing too exciting to report except that Nicole had come back from a business trip the week prior and had bronchitis, and the weekend weather was supposed to be suffocating. :(
practice
I only did one of the two morning practices to save my new tires. Nothing to note here except that they worked much better than the old tires (no surprise there). Tom Mason over at Mason Racin' (my Michelin distributor) had suggested switching to a Pilot Power Race PR5 compound rear (instead of the medium compound I had been using) to try to get more life out of the tire.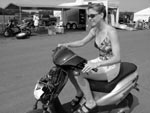 Someone at some point came up to me and mentioned that I had the 2nd fastest lap time during Friday practice (a 1:06-something), but I never went over to the lap time board to confirm this. It sounded good though, so I'll take it. :)
Nicole, after some convincing, began to ride the Derbi (which looked like a Frankenstein bike now that I had fixed it to make it functional but not pretty) around the paddock. Although she was nervous, she did great. I was proud of her, because it is quite different to ride than her own scooter. Before long she was all over the paddock with that thing and even gave a ride to her mom on Sunday. :)
expert middleweight gp (race 1, 8 laps)
I was gridded in the back for all of my races for the weekend. This would end up hurting my finishing positions because CCS decided to keep the lap counts the same as normal (8) for the sprint races, and the track length was so short that it just didn't give me much time to progress through the pack. I hate how in CCS you are put on the starting grid according to when you registered; it has nothing to do with qualifying position, points, or anything else rational.
I got a decent start for this race and began slicing my way forward, but this first race of the weekend was a bloodbath the first couple of laps. There was a crash right off the start in turn 1, a crash on lap 2 in turn 3, and a big highside crash on lap 3 in turn 5. I had passed a ton of people at this point as the race got red-flagged.
The riders (who were still upright, that is) pulled up on the pit lane to await instructions. It was swelteringly hot at this point, and several crew members from various teams came up to the pit lane to provide their riders with water. I was provided with some water from both Team Serpent (Jason Temme's team) and Scott Ryan's team...thanks guys.
After a few minutes it was announced that they would regrid based on the order after lap 2. I thought this would be of benefit to me since I had passed quite a few riders in the first two laps, but somehow the order got confused and I was gridded at the back again, negating all of my hard work. OF COURSE. But there was no time to argue, and now I had even fewer laps to deal with traffic. Blah.
My restart was good, though, and I just hammered away the best I could for all 6 laps I had left. I didn't even see the white flag. I was working hard and passed two people on the last lap to finish a fairly satisfying 5th after a tough race with three passes coming on the last lap. I don't think that Purk (the last pass) was happy about it, either, because he had passed the lead rider in our pack at the beginning of a lap and stretched a small gap, and I don't think he was expecting it as I block passed him under braking (where I am very strong) for turn 6. He buzzed by me just after the finish line.
Between races, I noticed that the coolant catch bottle was low and that there was some water in my lower fairing. I took off the bodywork and checked all of the hose connections (which all seemed okay) and then decided to fill the catch bottle so the system would have a little more fluid.
This was to be a HUGE mistake. :( Read on.
During the GT Lights race (between middleweight races), Scott Ryan was riding well on his Hawk and dicing with Ed Key when there was some confusion with a lapped rider which caused Scott to crash hard in the area of turn 4. He looked a little dazed the rest of the day, and his bike was mangled, so he would sit out GTU (he returned to race the next day though).
expert gtu - 30 minute endurance (race 7)
The GTU race was my best chance to finish well for the weekend since the lap count was much higher, and I have always found myself stronger at the end of races than many of my competitors. From the last row, I got an average start and fought through traffic until half distance at which point there was a fairly large gap to the next bike up...Mike Roeser on the yellow #162 (who I had had fun racing with the last round at Blackhawk).
It took me a few laps to catch up, but I could tell he was slowing as the laps wore on in the extreme heat. I passed him under braking for 7, but then I made a big mistake in turn 2 the following lap as I was trying to pull away which allowed him to get close enough to repass me sometime that next lap. I was able to latch right on though, and I had no doubt I could pass him for position before the end of the race.
Unfortunately, it was not to be, because as I tailed him closely on the exit of turn 5 on the next lap, my bike and I were at one point happy and catching up on the drive off the turn, and the next we were suddenly and unexpectedly sliding on our sides on the pavement in what is probably the fastest crash I have had. Thankfully, although it was fast (90+mph), it was very gentle; all sliding and no tumbling. I was still holding onto the right side bar until just before I went off the track and into the dirt. Instantly I was covered in dust and coughing.
I ran over to the bike and got it upright like it weighed 50 pounds. Adrenaline is an interesting thing. The front brake lever was broken off, so there would be no chance of me continuing the race; I did my best to push the bike out of the impact zone under the direction of the waving corner workers. As I was checking the bike over, I did notice water (more, this time) in the lower fairing again.
I was burning up, so I took off my helmet and waited until the race finished (which was only about 3-4 laps later). Finally the field came around and the cornerworker told me a truck was coming to pick me up. My bike worked though and I decided to ride it in with no front brake. That trip back to the pit always seems like a long one after a crash...
Nicole had almost freaked out but was back under control again by the time I saw her back in the pit. This was the first crash I have had since she started coming with me to the races, and she had no idea how to find out where/how I was, but she asked neighboring pits for advice and they told her to relax and go back to the pit.
The damage to various bits was quite minimal considering the speed of the crash. My bike needed a new front brake lever; other than that the damage was just a few scrapes on the bodywork because of the newly installed frame sliders Boyd had put on there a few days earlier. In searching through my box of spares, I came up with a front brake lever...that had a faux carbon fiber finish. I B pimpin my ride, yo.
My protective gear isn't quite as nice looking as it used to be, but it served its purpose. Luckily I managed to not hit my head on the ground. J
Riding the bike up and down the pit lane quickly revealed that the bars and triple clamp were not pointing anywhere near the same way as the front wheel, so I had to loosen all of the bolts holding the fork to the triple clamps, manually straighten, tighten it all back up, ride it down pit lane, and then repeat several times. Eventually I got it right, but it took a while.
Finally the bike seemed to be riding okay, so we broke down the canopy, packed up the trailer, and called it a night. Thanks, Chuck, for allowing me to use your trailer space Friday and Saturday nights.
Nicole and I were up at the track early again, as we had to meet chuck at 7am to unlock the trailer and set up the new canopy for all of the visitors we expected at the track for Sunday.
practice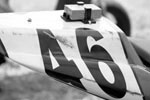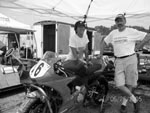 Having worked on the bike so much the previous afternoon, I thought I had everything set for the first practice. That should have been my first sign that I had forgotten something. As I pulled out onto the track for practice, my R6 overheated immediately, as in on the exit of turn 2. I kept the revs low and pulled off into the pit. Of course...there was no coolant in the system! After it had all boiled over, I had neglected to replace the fluid that boiled out. Great...I hadn't even had enough time to see if my chassis was behaving correctly!
After waiting some time for the engine to cool down, I added coolant, and as I was examining the system again very closely, I noticed a hose leak on the lower radiator hose that was actually on the motor side. After some quick advice from the neighboring pits, I severed the end of the hose with the cut and reattached it -- it reached. Good. I also filled up the system with coolant (a mixture of water and water wetter) and left the catch bottle almost empty. I also mounted new rear tire.
I had plenty of time to get ready, but when I was done, I was feeling increasingly nervous about the whole thing, because I no practice to see if everything was straight and if the system would leak elsewhere, etc.
There was then the lunch break and quite some wait until my races began. At about lunchtime, lots of people started showing up to watch in our pit! The extra canopy Nicole had bought for shading our guests as well as preparing cold drinks and such worked out pretty well.
Everyone took turns sitting in the heat, walking out and watching some races, and taking the scooter over to the shower head to cool off. Finally, race 10 rolled around. There was so much crashing going on in the early races that CCS made the decision to change all of the remaining races from 8 laps to 6 laps...so each race was going to be like 8 minutes long. That's really not a lot of time...bad news for me and my wayyy back starting positions.
expert middleweight supersport (race 10, 6 laps)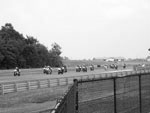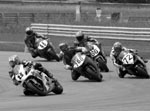 There were lots of bikes in this race. From my last row starting position I couldn't even see the front few rows as the green flag waved from the tower. I took it easy kind of feeling out the first bike for about a lap. It all felt good, so I decided to go.
I was able to latch on to Scott Ryan early and followed him as we made our way through the field. We were passing between 1 and 3 bikes per lap. That concussion from the day before sure didn't seem to be slowing him down very much. :)
The 6 laps went by very quickly, and I didn't even see white flag and ended up running out of time in 8th just behind the 151 Lithium bike of Schnettler.
The coolant was vigorously boiling in the overflow container when I got back to the pit...but there was nothing in the lower, so that was good news. To be sure I had enough coolant for the remaining race, I quickly drained what was in there, put in new fluid, and emptied the catch bottle.
expert middleweight superbike (race 14, 6 laps)
Again, a last row start. I would not have to hold back this time to see if the bike was behaving correctly, though. It was chaos in a seemingly never-ending big pack of riders, and there were some very tough passes going on. I was more aggressive early in this race, though, and had a tremendous battle with a very aggressive rider I had not seen before on the #27 bike. It was a good race for me, and I managed to make a pass stick on him as we fought through traffic on the last lap as we were braking for turn 6 right near the end of the lap.
I had an opportunity to force it underneath one more rider at the end of the lap, but it was a risky move, and so I just settled in for what ended up being 6th place.
Nicole was feeling really sick now, and everyone else was very hot, so as people started to leave, I told Nicole to head home (she had her own car there). Packing up wasn't so bad, but after the drive home, unloading by myself was pretty punishing, and I collapsed in bed that night pretty early.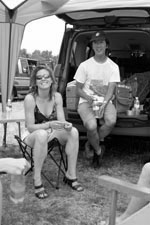 Although the results really didn't show it, I feel pretty good about how I rode this weekend. The short laps combined with the shortened races really hurt my positions, and I think that given enough laps, I could have finished every one of the weekend's races in at least 4th place. The crash was unfortunate, but nothing was damaged seriously (myself or the bike), so I wasn't that put out, and I have learned more about the R6 in the process.
Thank you to the businesses that are supporting me this year either by direct sponsorship or via contingency: Motonation/Sidi, Woodcraft-CFM, Pit Bull, Michelin tires, EBC Brakes, and VP Racing Fuels.
Lastly, thank you to the people that come up to the track this weekend to bear the heat with me. There were lots of people, and I hope I don't forget any: Nicole (of course), Mr. and Mrs. Toledo, Graham, Norine, Leeann and Aaron, and Patti and Adam (see his photography work at www.3scape.net; he gets credit for all of the on track shots this weekend except for the one of the starting grid (from Leeann)). Thanks for the pictures and the company, guys.
The next race for me is at a track that I have raced at many times, but never on this type of bike. It's at Gingerman (in South Haven, MI) at the end of July...hopefully some of you can make it even though it's a little farther away. I'm excited because Dirk will be joining me racing once again, as he just bought his own R6... :D It will be nice having someone I know racing in the same class as me.
Until next time...