CCS Midwest Round 2
Blackhawk Farms Raceway - South Beloit, IL
Jeff Chen - CCS Midwest Expert #46
back in the saddle (or, more to the point, YEE HAW!)
background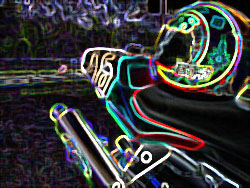 After a relatively successful career on a lightweight 125GP racing motorcycle, I stopped racing back near the end of 2002. At the time, I was a little burned out on racing; it had been such a large part of my life for so long (10-12 weekends per year for 5 years) that I felt that I was having trouble concentrating on other things that were important, so I decided to retire. With a heavy heart, I sold my trusty 1998 Honda RS125 to my friend Dirk. Originally I had contemplated keeping it as a track day bike, but in the back of my head, I knew that if that bike sat in my garage, I would just end up racing it again...some call it a passion...some call it a disease. It's probably a bit of both...and so the race bike was sold.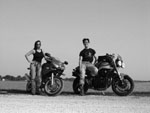 my friend helen and i out in galena
As a different solution to my motorcycle fix, I purchased a Triumph Speed Triple streetbike from my friend Graham and rode it on several long trips (Dallas, Atlanta, Knoxville) and just about everywhere locally, putting over 18k miles on it the first year I had it. I even did a couple of track days with it. It was a different and more relaxed kind of fun, and although I love the bike and I enjoyed riding it, there was definitely something missing.
In the fall of 2004 (with a lot of support from my most excellent girlfriend Nicole), I decided to race again in 2005. It took me some time to figure out what classification of motorcycle to race. All of my real racing experience had been on 125GP bikes. These super-lightweight bikes are a blast, but in recent years they have become decreasingly competitive as the development of the other lightweight class bikes has moved forward rapidly (i.e. the Suzuki SV650). After mulling this fact over and looking at the lack of size (and therefore, competition) of the grids for recent 125GP only races in the area, I decided it was time to try out a different class to see what it was like.
After much contemplation, finally I decided to join the highly competitive 600cc class. While they are both serious roadracing machines, these bikes are about as different as you can get:
| | | |
| --- | --- | --- |
| 125GP race motorcycle | | 600cc Supersport race motorcycle |
| 170lbs | +230lbs | 400lbs |
| 40-42 HP | +75 HP | 115-120 HP |
| 2-stroke 1 cylinder 125cc engine | | 4-stroke 4 cylinder 600cc engine |
| carbureted | | fuel injected |
After shopping around for a bit, I purchased my new race bike last December. In 2004, the bike was being prepared by Brighton Motorsports and ridden by Nathan Dressman. He had had several good finishes in the (national) AMA 600 Supersport series, so I figured the bike had some decent hardware on it. I picked it up with my aging Chevy S-10 which we drove with no heat (!) up to Detroit and back. Two weeks later I traded in the S-10 for my new race transport: a Honda Element. I wanted a reliable vehicle that was a little more practical around town than the truck, so I decided to tow a trailer instead of using just a pickup truck. So far, I love my car. :)
It was painful getting such a capable motorcycle and having it sit in the garage unused all winter. It looked so lonely... In the meantime I installed a trailer hitch on my Element and purchased a fold-up motorcycle trailer.
When renewing my CCS racing license in the spring, I had yet another decision to make. I would have been justified signing up as an amateur level racer, seeing as I had taken a long break from racing and was changing to a completely different type of motorcycle, but instead I elected to remain in the expert ranks. I knew that this would mean that while I got up to speed that my finishing positions would suffer, but ultimately I thought this would get me up to speed more quickly simply from being on the track with much faster riders.
As warmer weather began to roll around, I began looking for track days to attend to get a little practice on the new bike. I ended up going to a track day with Sportbike Track Time at Putnam Park (a great track by Indianapolis) with my friend Steve in early April. Bonnie and Monte at STT run a great track day, and I would highly recommend them to anyone looking to venture out onto the track.
At Putnam Park, Steve and I put on new tires and then spent the day trying to get a feel for the bike. We both started off conservatively, but I felt like we were rolling around respectably (if not blazingly fast) by the end of the day. Neither of us had really ridden a bike this heavy or powerful before on the track for any length of time. By the end of the day we were heating up the tires enough to show some abnormal wear on the rear tire. In fact, a little distance from the edge of the tire, the tire was literally tearing itself apart. We suspected a rear suspension issue, but being completely unfamiliar with the bike, we weren't sure what to change. One thing to note was that these types of bikes are much less to deal with between sessions than our old 2-stroke 125GP bikes which required carburetor jetting changes usually a couple of times per day. I think at one point we even both dozed off under the canopy between sessions. :)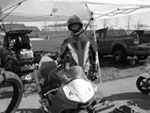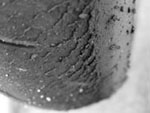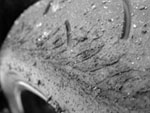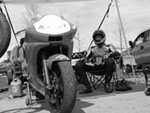 putnam park track day with sportbike track time. (jeff in red leathers; steve in silver)
The next weekend, my friend Anthony came over and we watched a Traxxion Dynamics suspension DVD and then set up his street Ducati 749S with the "magic" default suspension numbers. I was unable to do so on my racebike because the fancy schmancy rear shock I have for it requires a special tool which I don't have yet to adjust the preload. I'll have to order that tool soon.
Loading my stuff up Thursday night before the race weekend, I remembered why having a trailer is a real pain compared to just being able to load all of my stuff into my old Chevy S-10. I finally got my R6 and my Derbi scooter loaded onto the trailer and then pushed the trailer into the garage for the night. I never sleep well before a race weekend. First of all, I always stay up late preparing for the trip, and then when I finally get done packing, I'm too anxious to get good sleep...
friday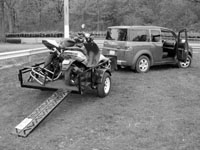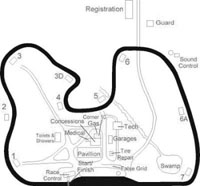 Friday morning I was up bright and early. It felt a little weird heading up to the track by myself; in the good old days I had a bunch of friends that roadraced, and we would all caravan up to the track together...now everyone has wives/husbands/kids/other priorities. :| I got up to the track a little after 7am, unloaded my bike and equipment, and went to talk to Tom Mason over at Mason Racin' (the Michelin distributor). He took one look at the rear tire on my bike and said that he would not run that tire again, as enough rubber had chucked off in the wrong spots to make the tire profile all weird. He ended up selling me a set of new tires and one pretty fresh used rear tire (called a take-off).
It was great having two sets of wheels, because I was able to mount new tires on my spare set for when I was ready to switch. I did mount the take-off tire on the rear wheel for practice. While the tires were getting mounted on the rims, I took the opportunity to put on my racing numbers. Dirk and Henry showed up to help me for the day as I was putting the rear wheel back on. We set up the canopy for some shelter and waited for the next practice session.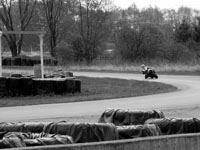 Blackhawk's racing surface was repaved shortly after the last time I had raced there. Before, it was super bumpy, but now it is much, much smoother than before. I was already familiar with the track layout (although even when I was racing before I didn't run there often), so for me this practice day was more about getting more familiar with my motorcycle than about learning which way the track went. I liked the whole surface with one exception…there was a wavy portion of pavement that was upsetting my bike turning in before the high speed left hand kink that was turn 2. The faster I went in there, the worse my bike would wobble.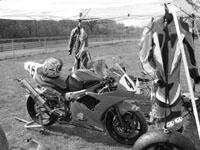 I went out in 3 sessions before lunch. I was pretty tense at first, but I was getting a little more relaxed each time out on the bike. I had no lap timer installed yet, so although there were definite improvements happening, I really had no idea how quickly or slowly I was going until Dirk and Travis were watching me during the 2nd afternoon session who clocked me at a couple of laps around 1:18.x. I wasn't quite sure what to think of those times, as I could run 1:19.x times on my 125GP bike, but that seemed like a lifetime ago. I came very close to crashing in this session on that section of wavy pavement by turn 2. I turned in while at the top of 3rd gear (over 100mph) on the wavy section and the bike began to wobble crazily while I was leaned over. The bike swapped back and forth wildly, and although this sounds counter-intuitive, I finally had to actually release the bars to get the bike back to being stable and recover (barely) before running off the track. Dirk and Travis witnessed the whole thing and said that they couldn't believe I didn't crash. Me too, guys, me too. :)
In the afternoon, I began to get tired, so I let Dirk ride the bike for a couple of sessions while I took Henry around to various track locations to watch. I have to say, Henry is one of the best behaved kids you can imagine. Dirk was looking good out there! Hopefully he will be racing his own R6 soon. :)
Later that afternoon, I asked my friend Brian Lacy for some suspension advice to try to cure the problem I was having with the wavy pavement in turn 2. Brian is a very experienced racer; he and I raced together in the lightweight classes back when I was on a 125GP bike and he was on a Spondon-framed Rotax. He has since traded his bike for a highly modified Suzuki SV650 and is always running near the front. Brian came over and attempted to set the damping of the front fork how he would set his own and then tried to make the rear shock's damping match that of the fork. This made sense…if the bike ran over a bump and both ends reacted the same way, there would be less likelihood of instability. During the day I had been increasing the rebound damping of the rear shock significantly solving the abnormal rear tire wear issue without thinking about how that would affect the overall attitude of the bike. I wrote down all of the changes we had made.
Dirk and Henry had to scram then, so I finished the day by mounting the CCS electronic scoring transponder on my bike's tailsection, packing up my equipment, and driving home after a productive day of practice.
saturday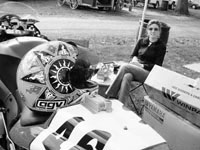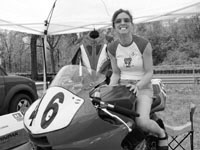 Saturday could have started off a bit more smoothly; over the past few months, I have discovered...coffee. In fact, I have a hard time without it these days! I had forgotten the O'Hare toll oasis was under construction, so it was almost an hour after Nicole and I left home before I got any coffee. Things started going better immediately after that. :) This was going to be the first time Nicole came out to help me or actually see me race, so I wasn't quite sure what to expect out of the day. It was all good though.
I was little worried about practice because there was a little rain on the way up to the track, but the ground appeared to be mostly dry when we got there. Excellent!
We arrived a few minutes before the Group 1 practice started (I was in Group 3), so we quickly unloaded the Element, hoisted the canopy, and then I began to show her some simple things she could do to help me out…putting the bike on its rear stand, turning on the generator, putting on tire warmers, that kind of thing. She was a great help to me the rest of the weekend! Somewhere in there I also brought my bike over for tech inspection (to make sure it's safe to race); this was not a problem. I was ready to practice.
practice
The two morning practices went okay. Although I was more comfortable on the bike than I had been so far, I was just not very consistent with my lines or braking points. All things with time, I guess. At least now I wasn't panicking every time I got on the straight from the sheer speed of the thing. WHEEEEE! Click here for a very short video of me going down the front straight during practice. I am on the red bike (the first bike of two). I am only guessing, but I would imagine that my top speed at Blackhawk on this type of bike in my inexperienced hands is about 130mph (at about 15000RPM in 4th gear).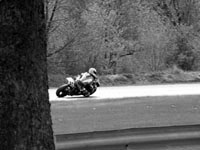 The suspension changes that Brian had changed Friday evening had made the bike much more ridable through turn 2. Riding over the wavy section, I still of course felt a bump there, but the main difference was that the the bike didn't go every which way afterwards if you stayed on the power. :) However, after the first session, a reputable tuner (but one I had never met) named Greg Moon came over to me and asked me if I was using a Power Commander (an aftermarket way to have rough control of fuel maps) on my fuel injection system...he said that the bike was sounding funny and that he thought it was running way too rich (from Nicole's description it sounded like popcorn at full throttle coming down the straight). It was bugging him so much that after the second practice session he showed me how to adjust it. We made the mixture leaner at full throttle openings to see if that would make a difference. I really appreciated the help.
Between practice and the first race of the day, I was planning on putting on a whole new set of tires (front and rear). Having already mounted the new tires on rims, I took my time putting the front rim on. The next thing I knew, I was being called to the mandatory riders' meeting...so I went over there...it took forever. On the way back, I checked out my grid positions (based on date of registration); my late registration had put me on the back of the grid for the day's races, which was fine with me. In fact, I was even thinking about voluntarily starting from the back of the grid since I had little experience launching this type of machine (although I did do a couple of practice starts in the pit lane during practice).
When I finally came back to the pit, Nicole was freaking out! "I-didn't-know-how-to-put-the-bike-on-the-front-stand- I-put-the-rear-warmer-on-the-spare-rim-since-you-were-going-to-change-it-before-the-race- but-there-are-only-20-minutes-left- so-are-you-still-changing-it- and-here-drink-some-water." I didn't have time to swap the rear tire! I made a snap decision and decided to keep the rear tire that was on there and just get the warmers on. We scrambled to put the front stand on the bike, put the front and rear tire warmer on, and started the generator. Whew! Frantic, but we had made it. Or...
As they were announcing first call for my race, I felt the rear tire warmer...it was stone cold! I glanced down in dismay to see that the cord that split the power between the warmers had gotten unplugged in the shuffle! So much for using tire warmers for that race.
A note about tire warmers since a lot of people ask me what they are for... In fact, when I mention them, their faces usually crinkle up as if I had just told them that Social Security was still going to be around when I get to be that age or that CTA fares are going down or something. Anyway. Tire warmers are used to ensure that the core of the tire is up to temperature before ever going out on the track. This is important because if you go out without the tire temperature up, the tire won't stick very well at all until it does heat up; this grip is crucial on the opening couple of laps since that is generally when the biggest gains in finishing position are made. If you were to not use tire warmers, even when the tires do heat up, only the outside will be hot at first and then the temp will slowly trickle to the core. While this might provide grip, if the outside of the tire is hot and inside of the tire is cold, the tire will begin to wear a lot more (in a phenomenon called cold-tearing) which ends up killing tire life...and racing tires are expensive! So, class, in review, the major reasons tire warmers are good are: 1) they make the tire stick better from the drop of the green flag, and 2) they make your tires last longer because cold-tearing does not occur. There is a third benefit of using tire warmers between sessions to reduce the amount of heat cycles put on the tire, but I won't go into that at this time. :) If you are a racer in need of tire warmers, check mine out. John Bickle produces the best tire warmers I have ever seen. Plus, he's a hell of a guy. Go see/buy his stuff at www.bickleracing.com.
So, where was I? Oh yeah, I was about to go out into my first race on my new bike after a long break from racing in an unfamiliar class with cold tires one of which wasn't as new as I wanted it to be. Sounds like a plan! We took the bike off the stand and with butterflies going nutty in my stomach, I made my way through the paddock to the pit out to enter the track.
expert middleweight gp - 8 laps (race 1)
I was very cautious on the warmup lap while still trying to go fast enough to heat up the tires as much as possible. As I came out onto the front straight, I contemplated gridding at the back of the grid since I knew I would be handicapped somewhat on the first lap as the tires came up to temperature, but a snap decision was made, and I coasted up to stop in my proper starting position. I have launched tons of motorcycle before; how bad could my start really be?
There is nothing quite like sitting on the starting grid of a motorcycle roadrace with the 1 board sideways waiting for the green flag to wave. Everyone is totally focused on the starter with their engines revving high...time seems to slow down. This is why we come here; this is why we practice; this is what all of the time and effort is invested for; to a large extent, this is why we live. The intensity is difficult to describe.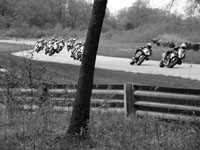 I got a decent start as the flag dropped, staying about even with two of the four riders on the same row as I was on. The guy right next to me had his engine revved very high off the start and he ended up pulling too big of a wheelie off of the line as the rest of us pulled away. As I traced a wide line outside of all of the traffic on the inside of the corner, I tried to remind myself to not try quite so hard since my tires were not up to temperature. I was holding my own somewhere in the last third of the pack for the first few corners, but under braking for 3A, I must have lost concentration because somehow I downshifted into neutral and ended up standing the bike up and letting EVERYONE behind me go by (as opposed to throwing it into the corner and having someone rear-end me). Great! I was now in last place! GRRRR.
I cursed myself soundly as I put the bike back in gear and set out in pursuit of the rapidly disappearing pack. I caught up to and passed 2 riders over the next 5 laps, but the next group of 3 riders was a bit far away and so for a couple of laps, I was kind of running around by myself. This, of course, gave me plenty of time to relax and get unfocused. On the last lap I made about 200 mistakes and got passed down the front straight just before the checkered flag by one of the riders I was pretty far ahead of just 2 laps prior. I was both surprised and disgusted with myself when this happened. Boy, I am rusty!
My getting mad at myself was good, though, and it was comforting to know that it would be difficult to do much worse in the next race of the day for me. Coming into and during this race, many little things had gone wrong, and I was determined that I would do better as time went on. I mounted my new rear tire, put the bike up on its stands, ate lunch, and anxiously awaited Expert GTU for a chance to redeem myself.
expert gtu - 30 minute endurance (race 7)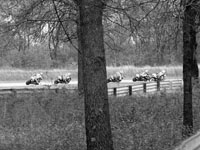 My tires were hot as I pulled up to the pit out. I noticed that the rider that pulled up next to me waiting to get on the track was sponsored by DGY, and that is when I finally met Scott Ryan. Scott is an up and coming racer that my friend Graham raves about constantly. This is his first year as an expert, and great things were expected of him since apparently he had great success in 2004 racing the amateur classes on a Suzuki SV650 and a GSX-R600. I introduced myself quickly and wished him a good race, and then we were off on the warm up lap.
I got a better start this time and was in the middle of the pack racing with a group of 3 for the first half of the race. I was finding my rhythm, and eventually I broke away from that group and started running on my own. The battle had taken its toll on me though, and when you have been away from racing for a while, 30 minutes on such a relatively large machine seems like a freaking long time.
I was interested to note that I was beginning to slide the rear of the bike in turns 1 and 5 even though I had just put a new tire on there. Something to think about later.
I was getting tired quickly now. This is likely due to the fact that I am not quite comfortable on the machine yet. The whole last half of the race, every time I screamed down the front straight, I would pray that the white flag would be shown (signifying the last lap of the race before the checkered). And lap after lap, I was disappointed when it wasn't... I was on my own limit, and my forearms were not used to this kind of punishment. The bike seemed very heavy, and you have to brake for a lot longer than on my old bike since the speeds down the straight are much higher and the cornering speed is slower.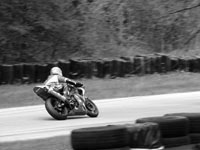 The top two leading expert riders (who pretty much do this for a living) came by putting me a lap down. Race...must...end...soon... It was inevitable. I was trying too hard, and about 3 laps from the end (it's all a blur really) while I was braking hard for turn 7 (the sharp right hand turn just before the front straight), I realized that I wasn't stopping fast enough. I tried to squeeze the brake lever even harder, and it was then, in horror, I realized that I couldn't! My grip had been getting weaker and weaker as the race went on since my forearms were pumped completely full of blood. I ended up coming into the corner too quickly and running off the track. Luckily I had remembered it had rained some that morning and that the grass was *extremely* slippery, so I was very ginger pointing the bike back in the right direction and got back on the racing surface. Two people I had previously been in front of promptly rocketed past me down the front straight just before reaching the tower. Now I had to remind myself that the tire was still probably wet on the sides, so I tiptoed through turn 1 and had one more bike pass me on the exit as the rear tire slid slightly as I applied the power. By turn 4 I was back up to speed though. Over the last couple of laps, I was able to close back up on the last rider that had passed me, but I was not quite close enough to attempt to overtake.
Although I was completely exhausted, I felt much better about this race, and it was good to actually be racing with a group of riders in close quarters again. Nicole and I quickly packed up everything for the night and then checked the results just before leaving the track for the evening. I had finished EX MW GP 20th of 21. Ugh. But I finished 15th of 20 riders in GTU, not too bad for losing 3 positions due to the off-track excursion. The times were also encouraging (the transponder lets you get lap times after the sessions are over), improving every session, but they were inconsistent as I learned my way around the bike and got used to racing again.
I went by Scott Ryan's pit and met him for real this time. He had finished well but had a near tire failure at the end of the race where huge sections of his rear tire were coming off. He headed off to the Bridgestone vendor to see what they thought the problem was.
We packed up and drove home, and to be honest, other than taking a shower, I don't recall much of the evening. I think I passed out mentally while I was eating.
sunday
Nicole and I got up way early and drove out to the track (all the while munching on Dunkin Donuts donut holes…I like cinnamon; she prefers jelly).
My exhaust was still popping, so I adjusted Power Commander again to try to solve the problem (which didn't work). I'll have to get that looked at sometime. Remembering a tip someone had given me a while back, I did raise the idle speed on my bike to 3000RPM trying to get the bike to downshift smoother while under full braking.
My friends Dirk, Chuck, and Graham came up to the track to spectate. It was great having them there for extra moral support.
practice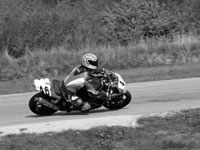 Practice was pretty uneventful. I kind of ran around with a few people and just concentrated on staying smooth. The idle adjustment was working like a charm, and I was having to think about downshifting less and so was able to concentrate on braking harder and later. Exhaust still sounded like Jiffy Pop popcorn at full throttle, though. pop pop pop pop pop.
I pulled in a little early from the second practice trying to save my energy for the one race I had signed up for: Expert Middleweight Supersport.
expert middleweight supersport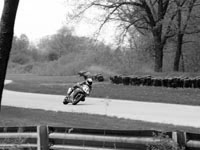 I got a much better start in this race. For me, I think that the trick is to not rev the engine so high so that I don't have to worry too much about wheelying and then just having a smooth clutch release.
It was great to be able to see the leaders for a change (at least for the first couple of laps). I had actually advanced three positions and was in a big train of bikes coming out of turn 4 on the second lap when a big crash occured on the exit of that turn (which I later found out involved Dan Doty, the guy I was pitted next to; he ended up being okay). There were at least 2 bikes involved and the last thing I remember is seeing a lot of dirt flying and a silver bike tumbling pretty high up in the air. The bikes immediately in front of me seemed to hesitate as we all were kind of involuntarily watching the crash out of the corner of our eyes, and I took advantage of this by outbraking two of them on the inside into turn 6.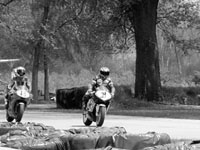 From there the order kind of stretched out, but as the laps wore on, I was slowly catching the rider ahead of me and at the same time, two other riders were pressuring me from behind. It was great fun. On the second to last lap, I was very close to the rider ahead, and I tried to get a good drive off of the carousel in order to go for an inside pass into the slow turn 3A. Somewhat unexpectedly, my rear tire began to spin as I got on the gas, and as the bike regained traction, the bike flicked me up out of the seat momentarily. I regained control before 3a, but this had let 2 riders past me. I followed for a lap, but then the race then ended on a red flag for riders crashing in turn 1 in an impact zone.
I had a big smile as I returned to the pit and packed up my gear. This was fun! I could feel that I was getting a feel for things, and there was more yet to come. When I went to check my results, I had finished 11th of 21 in Middleweight SS and had a string of laps in the low 1:15.x range (I believe the winners were running in the 1:11s this weekend). As we were packing up, Dirk, Chuck and I discussed that we thought my rear spring was set up too stiffly, and this was causing me to lose traction on corner exits. I will have to look into that before the next round.
aftermath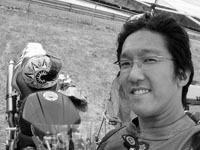 I'm happy to report that after some initial trepidation, I have learned that racing is indeed fun again, and I really can't wait to get back on the track. I feel like I'm having to relearn how to ride, but that's all part of the fun.
I would like to take the time to say thank you to the businesses that are supporting me this year: Motonation/Sidi, Woodcraft-CFM, Pit Bull, and Michelin tires. It is hard to give it your best shot without good equipment and support.
Lastly, a special thank you has to go out to the people that come up to the track to cheer me on and help me out: Nicole, Dirk, Henry, and Chuck. Without the support, this race season would be much more difficult in a lot of ways. Thanks, guys!
The next race is back at Blackhawk the weekend of May 28th. Between now and then I would like to adjust my rear shock and maybe get a lap timer. Until next time...
--
Jeff Chen
CCS Midwest Expert #46
jeff@dhracing.com